Regarding last week's headline-grabbing tulip incident, a wave of copycat crimes continues to catch the media's attention even as more prominent news erupted over the weekend:
In Saitama prefecture, a man caught beheading 182 pansies planted on a shopping street on the 20th was arrested on charges of property damages. The 21-year-old testified that he was on the way home from a night of drinking and had gotten carried away when a security camera caught him in the ruthless act. Meanwhile, also in Saitama prefecture, a man was seen beheading 38 tulips in a park on the 26th using a "rod-like implement," reports the Asahi.
Also contributing to the spree of murders, Sankei News reports that on Sunday morning police got a call from Yokohama residents that flowers had been mauled in a nearby park. When they arrived at the scene police found 8 tulips, 30 rape blossoms and 10 marigolds had fallen to an untimely death. The perpetrator is still at large.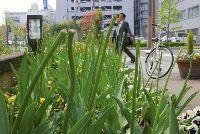 More victims of the latest crime spree Photo courtesy the Yomiuri OnlineAs the wave of serial murders that started in Fukuoka spreads across the country, local residents are in constant fear that they too will become victim. The Yomiuri described the sadness and disappointment residents of nearby Saga prefecture had thought when they discovered on Saturday that all the tulips planted in front of Saga station had been beheaded. Their fears were quelled, however, when gardeners in charge of the area confirmed that in fact the petals had already fallen naturally, and the remnants of the heads had been cut to allow nutrients to condense in the bulbs.
Copycats are unfortunately likely to appear particularly when an unusual crime catches the media's attention. Can this wave of murders partly be attributed to the media's over-publicity of the original tulip slaughter? In the case of many non-lethal copycat crimes, the perpetrator is often looking for their "15 minutes of fame" in an anonymous but news-breaking way, and these flower-maulers are getting the red carpet treatment from news outlets for what amounts to a petty crime. As we head into summer and more flowers come into bloom, what's next?
Blog:

Other posts by Sarah: