After a bed-rocking night in Tohoku, news hit both domestically and internationally of another major earthquake in the region only a month after the massive 7.2 tremor that rocked Miyazaki Prefecture in June. Although the reports all universally documented the essentials of the quake, the Japanese media has picked up on the early warning system employed during the recent quakes, and it's inability to perform correctly during last night's event.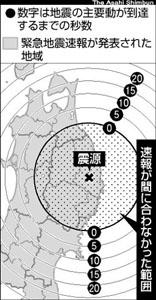 The number of seconds available between warning and quake. The center shaded area is where the warning was too late. (Courtesy Asahi Shinbun)A service of the Japan Meteorological Agency (JMA), the Earthquake Early Warning system detects P waves or primary tremors that eminate from the epicenter of a quake, estimates the intensity then broadcasts a warning over television and radio in the affected area, presumably a few tens of seconds before the more powerful S waves arrive. The system was put into action beginning October 2007, and was praised by residents of the Tohoku area when it gave many of them almost 20 seconds to react before the quake last month.
Last night, however, according to NHK and several other news sources, by the time the warning was broadcast the earthquake had already begun to occur near the epicenter in Iwate and Aomori prefectures. Although it has originally been speculated that the warning system would be ineffective near the epicenter due to the short distance between the P and S waves, according to the Yomiuri it took the JMA over 20 seconds after the earthquake had been detected to release the warning to the public. On top of that, although the quake had initially been estimated to be less than magnitude 5 (on the shindo scale), the actual quake measured over 6 (reportedly 6.8 on the Richter scale).
In areas less affected by the quake, such as the already-ravaged Miyazaki Prefecture, about 20 seconds were available between the release of the warning and the quake itself. Even so, it's likely very few were even awake to receive the early warning. The JMA reports that at present the technology is stretched to its limits. Perhaps they need to work on getting the job done faster?


Blog:

Other posts by Sarah: