As the eve of the long-awaited release of Apple's iPhone draws upon Japan, news sources were quick to pick up on the line that appeared late Tuesday night. Staff and security stood guard outside SoftBank's Omotesando location where the phone will go on sale on July 11 at 7am - noon at other stores nationwide - and as of this morning a 50-meter long line of dedicated Apple fans had camped themselves out in foldable chairs and in sleeping bags layed atop blue tarps and cardboard boxes.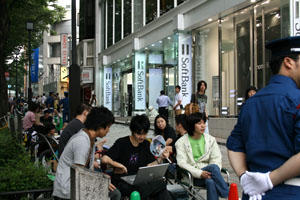 Less than 24 hours until Apple fans can get their hands on the new iPhone 3G at SoftBank's Omotesando locationAlthough Japan missed out on the first generation iPhone, thanks to a deal made with SoftBank, Tokyo will be one of the first cities worldwide to experience the next-generation iPhone 3G. But in a market where technology such as one-seg TV tuners and electronic cash has become standard fare, there's much speculation about just how successful the iPhone will be. Bloomberg reports that, "while more than half of Japanese are interested in the iPhone 3G, only 6.7 percent plan to buy it right away and 36 percent are undecided, according to a survey conducted between June 24 and June 27 by Tokyo-based research firm Enterbrain Inc. Of the 1,200 people who responded, 32 percent said they have no interest in the device, the report said."
But for the die-hard Apple lovers who are already in line, just the chance to be one of the first to own the sleek device is reason enough to queue up. Hiroyuki Sano, a 25-year-old grad student who is first in line, must have been swamped by several reporters for the first few hours of Wednesday as multiple news sources featured wrote about the heroic story of the young man ditching class and traveling from Nagoya to get his iPhone. "I am a huge Apple an and I'm excited to buy the iPhone, which I find is far better than any other cellphone," he told reporters.
The brand name seemed to be one of the only reasons many chose to line up. Japan Today quoted a mohawked aspiring actor named Butch: "I like how they introduced the touch-panel concept to the mobile phone, and Apple design is the best." Reuters interviewed the only woman in line at the time, who said she was holding place for her coworkers so that her company could buy an iPhone for content development. They also reported on a similar line in development in New Zealand, where the 22-year-old front man was quoted as saying "I'm really just doing it to be able to say that I'm the first one in the world with one of these phones."
Blog:

Other posts by Sarah: