News came at the beginning of the month that screenings of the movie "Yasukuni" had been cancelled in several locations throughout Tokyo. The film, which the Mainichi calls "a Chinese director's controversial documentary about Yasukuni Shrine," was scheduled to be shown on April 12, but came under fire after conservative government officials raised objection towards the film, and fear amongst theater management grew regarding protests from right-wingers. And as if the controversy of a Chinese national creating a film about a Japanese war shrine wasn't interesting enough, the production was funded in part by money from Japan's Agency for Cultural Affairs.
Reports of the controversy are varied, with different publications in both English and Japanese giving different reports. Various news sources, in both languages, have printed that, "A group of about 40 lawmakers from the conservative Liberal Democratic Party had requested for a preview of the film because they feared the documentary could have 'distorted content.'" (Reuters)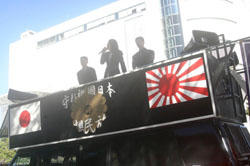 Japanese rightists doing what they do bestThe leader of these conservatives was reportedly Tomomi Inada, LDP member, historical revisionist, and right-wing webcaster. However, in a letter in MSN Sankei News, Inada criticizes the Asahi for incorrectly reporting that she had requested a preview of the film, and even went as far as asking the newspaper to publish a correction (they haven't). She claims that several LDP members of the Diet and herself had requested a screening at the Agency of Cultural Affairs because of their concern about how money from a government grant was being used. Her defense comes too little to late, however, as word of this requested preview, and its subsequent refusal, due to Inada's objection of the film is all over English reports of the issue.
Currently, a number of theaters, including four theaters outside of Tokyo in such remote locations as Akita and Aomori Prefectures, have taken the initiative to screen the film.
We have to wonder what exactly is going through the minds of those who are protesting the content of the movie and demanding it be prohibited; isn't this behavior—government-controlled censorship—suspiciously similar to that of the country just across the sea that many conservatives feel is using the film as propaganda?


Blog:

Other posts by Sarah: