Expats Unite As A Network For Fun AND Business
Being a foreigner in Japan can be isolating and lonely. Many have found refuge in their computers and the Internet, allowing them to stay in touch with family and friends through online chat services and social networks such as Facebook or Twitter. But as a community unto itself, there really are few opportunities to connect with other expats and foreigners in Japan to exchange news, views and experiences on a wider scale. Nick Ramsay of Kakamigahara, Gifu knows that well. It's the main reason why he started a simple little project called JapanSoc.com which has now grown into one of the most active online networks for foreigners in Japan.
The project's main focus revolves around blogs. Many expats keep blogs as a diary or announcement vehicle of their experiences and impressions of Japan. The problem is most bloggers are not aware of who the other Japan bloggers are or how to keep up with their relevant or interesting articles. Nick's solution was to allow each article to be submitted to a central location (www.JapanSoc.com) and be rated or "Soc"ed by other readers which, in turn, would rank on the front page. While similar in most respects to Digg, Stumbleupon and other social bookmark systems, JapanSoc.com is unique in that all articles must be related to Japan.
While the growth of JapanSoc.com is a success story in itself, the story doesn't end there. As Nick explains, "When myself and other JapanSoc bloggers took part in the first "J-Blogger" online conference, it became apparent to promote our Japan-themed blogs to a wider audience, we would need to collaborate. That led to JapanSoc.org, a Google group now consisting of around 250 members. Through mass-participation, we are able to draw greater attention to sites, tools or events that further promote the community."
The community has indeed been successful, attracting the attention of most of the online bloggers and networkers in Japan. The growth has also been amazing with the majority of traffic and membership being added within the first three months of 2009 alone. The group is now collaborating on such projects as online podcasts as well as venturing into the business sector.
Nick added, "I expect JapanSoc will continue to grow and members of the group will collaborate on various projects such as podcasts, video and site development. I'm also hopeful we will attract companies wishing to utilize our base of Japan-themed blogs to promote their wares... as long as we get freebies in return!"
While Nick and others in the JapanSoc community may think of this now as a nice little project to break the monotony of isolation, it's obvious the potential of this community and the ability for the expat community to be united as a "voice" in Japan is clearly in their crosshairs.
I guess blogging in Japan isn't just complaining about your room size anymore.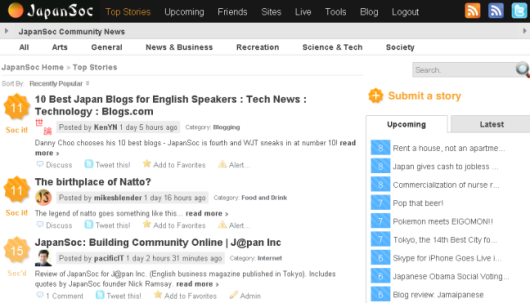 Blog:

Other posts by Robert Sanzalone: