The Japanese Christmas notoriously makes no apology for being a commercial, couples orientated season where KFC plays a huge role in providing a wholesome Christmas dinner. With only five days to go until the big day, a new survey by the Nikkei Net Broadband News station revealed some interesting facts about changes in how Japanese people spend their day. The survey found that 39.9% of Japanese people prefer to eat Asian food on the day—nabe, sushi, yakiniku and izakaya food topping the list. Despite Japan's lack of ovens, however, 56% like to eat a roast chicken and 90% will definitely consume a Christmas cake.
Whilst during the bubble period, hotels were almost always completely booked out with couples eager to "have a go on Santa's sledge," new trends see that only 0.6% of young people are willing to splurge on the usually over-priced romantic night in a hotel.
For the first time ever, Japan has seen record numbers of people wanting to spend Christmas with their family. 86% voted for family as the most important people to be with, despite the fact that Christmas day is not a national holiday in Japan so most adults will likely be with their colleagues instead.
It also seems that Japanese people have a little bit of Scrooge's Christmas cheer in them as less than half of people give presents to close friends and family. People in their 20s are the most miserly of the lot with 43% of young people giving presents and interestingly, men that were in their 20s during the bubble period have now grown up to be 40 year old men who still have an appetite for shiny things, the survey revealed. So a quarter of men in their 40s give accessories to their loved ones, more than their 20s counterparts. However, young women are even tighter than young men, as the survey found that 36% of Office Ladies (OLs) refuse to give a present to their boyfriends.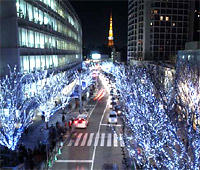 Roppongi Hills Christmas Lights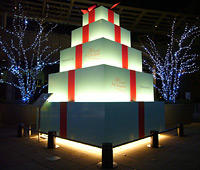 Roppongi Hills Tiffany Christmas LightsSo it looks like a Japanese Christmas is to be spent at home, eating lots of Christmas cake and sushi and not giving presents to each other….but at least the Christmas lights look pretty!

To see the survey, click here:
http://www.nikkei.co.jp/bb/index.html
To see a KFC Christmas advert, click here:
http://www.youtube.com/watch?v=mM9IeRXxdTA
Blog:

Other posts by Anna: