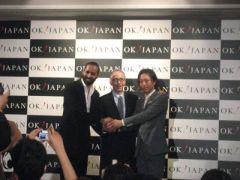 OK!Japan launch held at the British Embassy. From left: Manjot Bedi, Jay Gissen, and Kenichi Yasuoka, COO
OK! Magazine held a pre-launch party for the release of their Japanese online version on Monday.
"Japan will become the 22nd member of the OK! Family," said Jay Gissen, Director of Digital Media for OK! magazine, at a press conference yesterday.
It is the first time OK! have created an online version of the magazine. The website will be used to track users' interests and shopping habits, much like the Amazon website, as well as enabling users to create content to enhance user interaction. "If we just put our magazine content online, we would be finished," said Manjot Bedi, Chief Visionary Officer for the magazine in Japan, talking about the global problems that publishing companies are facing because of content being readily available online.
They also plan to use the global OK! database to enable users to search for content they want to read: "With search engines, the days of telling people what to read is over," said Bedi.
There are also plans for an OK! café, much like the Hard Rock café, plus mobile phone access to the site.
OK! magazine was started in Britain by publishing company Northern & Shell Network Limited in 1993. Now they have a distribution of 120million in 21 countries across the world, with revenue of ¥37.4billion.
Although commonly dubbed as a 'gossip magazine,' the producers of OK! Japan rebut this claim, saying they are more of a celebrity lifestyle magazine, where gossip is spread from the mouths of the celebrities themselves and not just speculation, like in other magazines.


Blog:

Other posts by Anna: