Despite China and Japan's "ice-breaking" mission with Mr Hu's present visit to Japan, the spin and PR have been unable to mollify the tougher critics who feel that Mr Hu is deceiving Japan with unimportant promises when larger issues are left unsaid.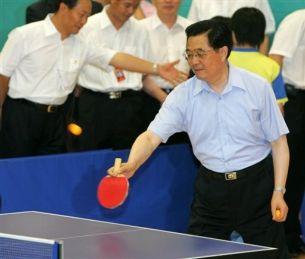 Ping-pong diplomacy?Media focus has been given to the jovial table-tennis game between Mr Hu and Japanese Olympic star Ai Fukuhara, as well as China's offerings of pandas to Ueno Zoo following Ling Ling's death. Once again, the world looks to ping-pong diplomacy to smooth over frictions in China-related international affairs.
Critics argue that China is attempting to deceive Japan and uplift its public image with these small gestures in a bid to gloss over the Tibet issue. Mr Hu refused to talk about the Tibet issue when visiting Waseda University, with hundreds of pro-Tibet protesters shouting "Free Tibet!" outside the university. Sources also say that the students inside the university were "invited" guests only, in a bid to keep out the pro-Tibetan students.
Japan is also still largely concerned with China's food safety issue, and the word "gyoza" can be seen popping up in many of today's media as well as other issues which Japan feels will be irreconcilable, such as the East China Sea gas disputes. Chiba's mayor, Akiko Doumoto, said in a press conference, "Whether it be the gyoza problem or the resources problem, the two Asian leaders are required to talk thoroughly and move forward in the right way. We should not be deceived by the Pandas."
However, an article from the Economist holds the view that although still delicate, relations between the two countries are improving. They point to the recent polls concerning Japan's popularity in China: "It may come as a relief to both sides that, according to Horizon Research, a [Beijing based] polling outfit, the attitudes of urban Chinese are turning more positive towards Japan. A growing number think historical differences should be set aside. But it will take a lot more ping-pong to erase the impression of many Japanese that they are loathed in China more than they are admired." Less positive sentiments can be found in a Mainichi Shimbun poll, which claims that "A majority of Japanese believe their country should take a tougher stance on China," with 51% saying they should be stricter and only 26% saying Japan should be "more friendly" towards China.
The Economist: http://www.economist.com/world/asia/displaystory.cfm?story_id=11332789
The Independent:
http://www.independent.co.uk/news/world/asia/china-puts-positive-spin-on...
Mainichi Shimbun Poll: http://afp.google.com/article/ALeqM5gPlmPOeBZT2aXPgagilZb0gS5_ig
Chinese view Japan more positively:
http://www.china.org.cn/international/2008-05/07/content_15091389.htm
Blog:
Tags:

Other posts by Anna: