It is amazing how much attention the Japanese media devotes to flowers. On some morning TV stations, every day they go to a different part of the country to report on the latest budding flower. And no flower gets Japanese media and its audiences more wound up than that of sakura – the cherry blossom.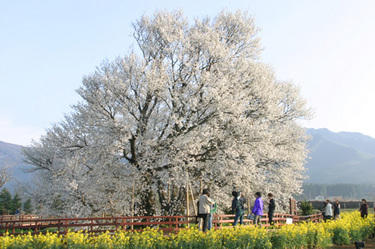 A lonely sakura losing its traditional pink colorHowever, this year the headlines took a more somber tone as most dailies and TV channels reported this morning that this would be the last year that sakura would blossom fully in Japan. Scientists warned of this many years ago when it was noticed that an increase in polluted air from newly industrialized China was having a detrimental effect on the hue of the blossoms. Increased amounts of Chinese yellow sand in the air has also reportedly exacerbated the problem. According to Professor Uso of the Cherry Blossom Institute, "In the Tokugawa period the cherry blossoms were vivid, almost scarlet in color. However, in recent times they have become pale and we see them now fading from a light pink to white."
As a result of this pollution scientists predict that from next year, only every other tree will blossom, decreasing gradually over the next decade until only a few sakura trees are left.
For the Japanese people who are so proud of the cherry blossom and hold spring parties in the park to view its beauty, these are very sad times. One member of the public announced on the radio that "without sakura, Japan is no longer Japan, it is like Mt. Fuji has gone away. I will go to live in Holland from next year." Four out of nine are said to be in denial of the problem although statements are expected from the Emperor and Prime Minister later on today.
Blog:

Other posts by Anna: