As predicted in the blog on the 13th of December, another celebrity takes up a place in politics. The celebrity lawyer Toru Hashimoto won his place as the governor of Osaka yesterday and this morning's news saw Hashimoto praise fellow celebrity governor of Miyazaki, Hideo Higashikokubaru, as being the epitome of success.
And this wouldn't be wrong either. Not a day goes by when Higashikokubaru isn't in the media. The profile of Miyazaki prefecture has been raised enormously and the number of tourists that visit the area has gone up to a tremendous 50,000.
Hashimoto, on the other hand, doesn't have the same charisma and appeal as Higashikokumaru and is also not as famous. However, Hashimoto will undoubtedly follow in the success of Higashikokubaru's footsteps and will make use of any media connections that he possibly can. From this day forward, expect to see Hashimoto fight for the lime-light at every possible convenience and Higashikokubaru sweat a little as he fights to keep his.
The battle has started for the celebrity politicians to see who the media love the most.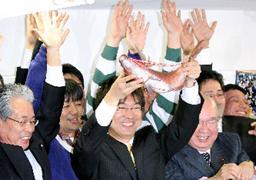 Hashimoto win Osaka gubernatorial elections :Photos courtesy of Asahi Shimbun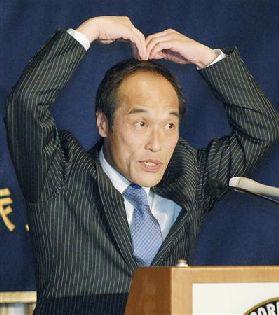 The much loved governor of Miyazaki
Blog:

Other posts by Anna: