Japan Post recently reported that its New Years postcards, of which about 30 billion were sent in December 2007, actually contained only half the amount of recycled paper originally claimed. While 40% recycled paper is the standard set by Japan Post for all postcards sold to consumers, Nippon Paper Industries Co. admitted that the postcards they produced contained a mere 20%. With billions of these being sent out every year, that's a lot of trees!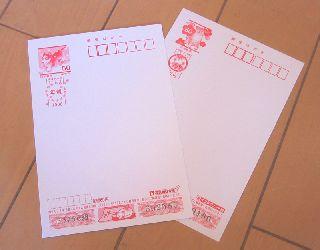 New Years PostcardsMasatomo Nakamura of Nippon Paper Industries, acknowledging his company changed the ratio without permission, boldly stated that "We put priority on quality rather than on being compliant." With the recent popularity of carbon-reduction, "my bag," "my chopsticks," cool/warm biz, and the Minus 6% movement, isn't this way of thinking a little out-of-date?
Over packaging of everything from foods to feminine products and decadent neon billboards left and right put Japan far behind other conversation savvy countries such as New Zealand and those in the EU, but environmental awareness is growing and people are becoming increasingly educated. New Years postcards may be an important part of Japanese culture, but there are ways to continue practicing the custom of New Years greetings without consuming so many natural resources. In a country where almost every single person carries a cell phone, why not go digital?
And after last year's seemingly endless stream of scandals and scams, with the 2007 "Kanji of the Year" declared to be counterfeit/imitation (偽-nise), is this a sign of even darker days to come?
Blog:

Other posts by Anna: