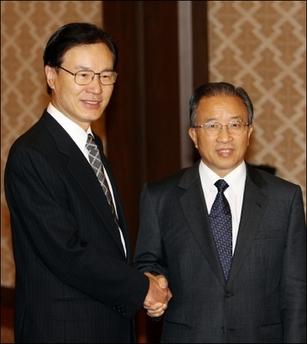 Komura and JiechiLast week, Masahiko Komura, the Foreign Minister of Japan, made a visit to Beijing to discuss issues relating to demarcation disputes in the East China Sea. According to the headline of the left-wing Asahi Shimbun, "Japan-China gas field issue nears resolution" although the "two sides remain split over the demarcation." The Yomiuri Shinbum reports in its editorial "To all appearances, Japan and China have taken a first step toward crafting a strategic, mutually beneficial relationship."
Attempting to see how the Chinese news reported this issue, it was surprising to see the little coverage there is on the most recent visit by Japan. Looking through People's Daily online, and ChinaDaily.com, both articles have brief, newswire style reports merely saying "China and Japan share common understanding on maintaining and enhancing high-level visits and exchanges." The state news agency, Xinhua, did not have any up-to-date reports on this visit.
The Japanese newspapers look quite positive in their outlook for Sino-Japanese relations whereas the Chinese newspapers just report the facts without much comment.
With Japan so scared of China's growing power, are the newspapers a reflection of Japan's desperation to improve relations and China's cautiousness over what the future brings?
Blog:

Other posts by Anna: