Excite Thrilled by Ubit Solutions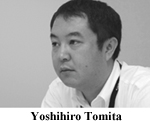 AFTER a slow start, the Japanese Internet market matured quickly from 1999 through 2003, and much of the Internet "real estate" was staked out then. Excite, a second-tier Japanese search engine on a user-visit basis, is flourishing. Itochu owns nearly a 70 percent share in the web portal. Excite's IPO on JASDAQ in 2004 made this possible financially and has triggered renewed activity in creating quality content -- particularly for mobile phones. That is where Ubit comes in. Yoshihiro Tomita, director of Excite's Mobile Business Department, spoke with J@pan Inc about their choice of Ubit.
In 2002, Excite, like many portals, tried to build their own infrastructure, explained Tomita. However, the advent of serious profits from the cell phone contents business meant that if Excite wanted a piece of that profit stream, they had to quickly find a solution to compete with other portals. So Excite turned to Ubit.
Ubit's solutions were able to reduce not only development cost but also development time -- a crucial factor when exploiting the fickle market for cell phone content. Excite used to estimate two or three months to develop a new site, and if you factored in all three carriers -- AU, DoCoMo, and Vodafone -- then that development time would balloon to four months or more. Excite learned that with Ubit they could halve development time, and enjoy stable code that is very scaleable.
Excite was also concerned about site upgrades. Mobile content sites need a lot of technology updating. Ubit's MS2 obviates the need for site-by-site upgrades -- but also supports all major technologies being introduced. The result is a trans-parent platform for content providers to work from.
For Excite, Ubit's biggest sell-ing point was the economics. Tomita explained that it typically costs JPY10-15 million to develop a new site and at least 10,000 subscribers are needed to break even. But nowadays, with tens of thousands of sites, it is difficult to earn a return on the same investment. Ubit's solution brings down both the development and maintenance costs so dramatically that service providers can enjoy an ROI on numbers of less than 10,000. Indeed, the Ubit cost-performance value proposition enables the service provider to experiment with more diverse and niche content.
That is just what Excite is doing, said Tomita. The portal already has Excite Music, a J-Pop site, and plans to launch other sites in cooperation with Ubit. The company is confident that each of these will garner 10,000 subscribers, enough to turn a profit.
Excite also plans to make their site Felica compatible, so as to create an integrated content and e-commerce site. With Ubit's Felica-compatible download system, points will be able to be deducted from Felica, making the music and other content accessible by young Japanese expecting a seamless, trouble-free online shopping experience. - J.D.